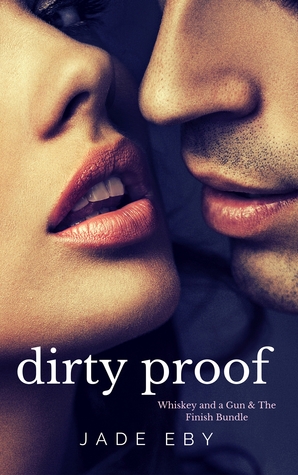 Rating:
5 Stars
Synopsis:
For the first time - the enthralling novels Whiskey and a Gun and The Finish are combined together.
Carter and Tawny have a story to tell - but you won't like what they have to say.
Follow as they each get their turn in this coming-of-age tragic story about love gone wrong.
+ Extra scenes not available anywhere else.
Whiskey and a Gun Synopsis:
I only meant to love her...
Tawny Owens was going to help me escape my past. She was going to change my future.
But that's not what happened.
I don't know if I can control it much longer. This insatiable need to kill the only good thing in my life.
But this isn't her story - it's mine.
The Finish Synopsis:
I loved him.
I hated him.
He was my everything.
He was my undoing.
Carter had his turn.
Now it's mine.
This is my story now.
Review:
"Don't forget where you came from and you'll never forget
where you deserve to be, pretty girl."
I'm not even sure where to start with this book. It's not really a romance book, but at the same time it had so much love in it, I don't know how it couldn't be a romance. I'm glad I didn't know it wasn't a true romance because I would have shied away from it. I'm a romance-only reader. And how tragic would it have been to miss such a phenomenal book.
There are always books that gloss over the tragedy, we get a paragraph, a page, a conversation, hints at what tragedy occurred. Well in this book we live it. Jade makes you live it. This is that book that makes you understand something that is easily judged and almost un-understandable. She did a brilliant job writing this story. I don't even have words to do her book justice. It was beautiful and I just can't explain what it has made me feel.
"Tawny Owens, I want to take care of you and make all the bad things in your life disappear. I promise we'll never end up like our parents. We'll be so much better than them. Will you marry me?"
So in Dirty Proof we get the novella Whiskey and a Gun, which is Carter's story. Then we get The Finish, which is Tawney's story. I know you can get these books separately but I highly recommend getting them together in Dirty Proof. To read Carter's story it is so sad. It's so brief and we make judgments based on his side of the story. From his POV it is tragic to see him transition from a teenage boy to the man he becomes. It is so sad. Then to turn around and see it from Tawney's view. To go back to when they met and be reminded of how he started, it compounds the sadness.
"... love comes before salvation. Before survival. Before saving ourselves. That's the truth that sits in the pit of myself. I will always choose him over me."
Then we get the full story from Tawney, and that is all I can really call it. The full story. I don't know if Jade did this on purpose or not, but I can't help thinking, "Is that how Carter saw things progressing? Did he not see the events happening earlier?" Because we do not see it earlier in his story. I was blown away when I started reading The Finish.
"Here's the thing — you never know what you're capable of until it's time to prove it to yourself. Until you're in a situation that your brain recognizes as life or death. But was it? Was there any other way this could have ended differently? The answer is lodged in me, put there by every broken bone and bruise I incurred by his hands."
We watch the characters transition from meeting as teenagers and we feel the love and attachment they have to each other, this foundation it was built on. And we watch it progress and grow. I feel horrified by what Tawney went through and I think it is so easy to judge her, but in the end when she was still struggling and missing his love, I understood. In a horrible, scary way, I understood how she could still miss him after everything.
"Living without him, I mean. It's not easy. But every day that he's not in your life gets a fraction easier. Remember how much easier it became to get used to the pain? It's kind of like that. Except reversed."
God, this book makes you think. I love books that make you think. I love this book. Don't miss out on it. It's a beautiful, happy, sad story that shouldn't be missed. This book is one of a kind and I will always love it. It made my heart hurt and made me think. Thank you Jade Eby for a beautiful story. Enjoy readers!